Yesterday was a day filled with all the things I love: playing in the garden with my daughter, a walk around the neighborhood, cooking, sewing, a glass of wine, and a nice dinner with my family.
On the outside it really doesn't seem like anything extraordinary, but to me, it's days like these that make me look down on my life and smile.
Homemade Tomato Sauce Recipe:
First, remove the skins from a large bowl full of tomatoes. The easiest way to do this is to cook the tomatoes in a pot full of boiling water for 1-2 minute and then immediately submerge them in ice water. The skins should come right off.  Next you need to quarter the tomatoes, remove the seeds, and let them drain in a colander for about 15 minutes, pushing the juices out every few minutes.
Start cooking the skinned and pitted tomatoes in a big pot.
Meanwhile, in a fry pan, cook up one large onion, four cloves of garlic, olive oil, and 1/2 cup finely chopped sun-dried tomatoes (the kind packed in olive oil). Cook until onions are translucent.
Add salt, pepper, a little cayenne, a spoonful of sugar, and 1 TBSP balsamic vinegar to the fry pan. Cook for one more minute.
Add the onion mixture to the pot full of tomatoes and stew for 1-3 hours, until the sauce is to your desired thickness.
Add freshly chopped basil and Parmesan cheese before you serve over noodles.
Last night I used this sauce, along with the eggplants from my garden, to make  Martha Stewart's Baked-Eggplant Parmesan. So good!
And then the three of us, my hubby, Monet and I, enjoyed a nice dinner together.
Because people, smiles and laughter, more than anything else, is truly what makes a house a home, I hope you enjoyed this weeks "moment"…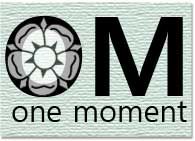 OM is *one moment* and is a meetup designed to notice & relish a moment in everyday life. The meetup idea was created by Linda at her blog, a la mode stuff.  If you'd like to participate in OM, just click the button and you'll be taken to Linda's post explaining it all.