Baby Steps
September 24, 2010
When I was away last weekend, attending The Creative Connections Conference, I was sure my daughter Monet was going to take her first steps, just to spite me for leaving her for three nights and four days.
I'm happy to report that just the opposite happened.  I arrived back home on Saturday evening, and the very next day Monet took her first steps.  What a sweet homecoming!
(Note: The video is both sweet and terribly cheesy.  Consider yourself warned.)
Because people, smiles and laughter, more than anything else, is truly what makes a house a home, I hope you enjoyed this weeks "moment"…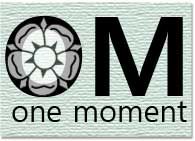 OM is *one moment* and is a meetup designed to notice & relish a moment in everyday life. The meetup idea was created by Linda at her blog, a la mode stuff.  If you'd like to participate in OM, just click the button and you'll be taken to Linda's post explaining it all.