The Perfect Morning Routine
September 3, 2010
Now that Daddy has gone back to work, Monet and I have settled into a nice morning routine.
(Speaking of morning routines, it's 6:30 a.m. and I hear Monet talking to herself in bed.  Our "routine" consists of her sleeping until 7:30.  Hmmm, I wonder if she'll go back to sleep?!)
Back to our "routine", if there ever was such a thing when it comes to children.
When Monet wakes up in the morning, even though I've been up working for a couple hours, we always go straight back to bed.  We lay down, wrap up in her favorite blankies, "talk" about our dreams, and have cuddle time.  Sometimes this is my favorite part of the day.  Monet is always so sweet, still, and in a perfectly good mood.
"Stillness" is not a common thing in a one year old, and so I genuinely cherish this time in the morning.  And often before I'm ready for it to be over, Monet is up, out of bed, and looking for something in our room to play with.
Recently, her favorite "toy" in our room has been the remote control to our light/ceiling fan.  She'll press the button, either the fan or the light will turn on, and every time, no matter how many times she's done this exact same trick before, Monet will let out a loud and exaggerated, "Ohhhhhhhhhhhh".  Her mouth gets long and her eyes bold –every time!  It really fascinates me.  And every time, my response is also the same, I respond with a big smile, followed by an exaggerated "Ohhhhhh".
Well, I don't think she is going to go back to sleep, so I'm signing off early today.
I'm off to cuddle.
Because people, smiles and laughter, more than anything else, is truly what makes a house a home, I hope you enjoyed this weeks "moment"…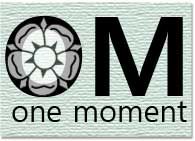 OM is *one moment* and is a meetup designed to notice & relish a moment in everyday life. The meetup idea was created by Linda at her blog, a la mode stuff.  If you'd like to participate in OM, just click the button and you'll be taken to Linda's post explaining it all.