Embracing Fall
October 8, 2010
I hate winter.  And while fall on its own is generally a nice season, in my eyes Fall is like Winter's best friend.  You might not mind Fall, you might even like Fall, but since Winter tags along behind Fall, well, it kind of makes Fall a bit of a downer when he arrives at a party.  Does that make any sense?
Winter brings the cold, the dark, the end to long walks, long days, and playing in the garden.  All joking aside, I struggle during the winter months.  When the leaves start to change colors, it remind me that winter is on its way, and frankly I don't look forward to that one bit.
This year, I'm trying to be different.  I'm trying to embrace fall and the beauty that comes along with it.  And while I might not succeed everyday, one day this week, when Monet and I were walking, I genuinely enjoyed the brisk air, the rustic colors, the dying plants, and my daughter's fascination with all the changes around her.
Thank you Monet, for helping me to see something so beautiful, so obvious –thank you for helping me to embrace fall.
Because people, smiles and laughter, more than anything else, is truly what makes a house a home, I hope you enjoyed this weeks "moment"…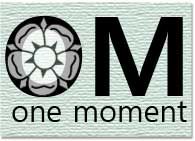 OM is *one moment* and is a meetup designed to notice & relish a moment in everyday life. The meetup idea was created by Linda at her blog, a la mode stuff.  If you'd like to participate in OM, just click the button and you'll be taken to Linda's post explaining it all.