She had me before hello…
October 1, 2010
I know I write about my daughter Monet every OM, but truly I am absolutely smitten with her.
It doesn't matter that she gets up most mornings at 6 a.m.  It doesn't matter that she often feeds the dog 1/2 her meals causing him to get sick.  It doesn't matter that she grabs at my coffee in the morning and causes me to dump it all over my white bed sheets.
Everyday, all day, my entire heart is hers.
Last year, I hated not being home with Monet.  Dropping her off at the sitters was a daily struggle.  But now that I've quit my day job, everyday at home with her is truly a gift.
Monet learned a new word this week –"Happy".  She walks around the house saying it over and over again, "happy, happy, happy".  It's nice knowing that what I feel inside, well, I think she feels it too.
Because people, smiles and laughter, more than anything else, is truly what makes a house a home, I hope you enjoyed this weeks "moment"…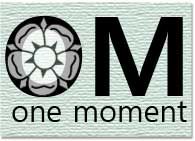 OM is *one moment* and is a meetup designed to notice & relish a moment in everyday life. The meetup idea was created by Linda at her blog, a la mode stuff.  If you'd like to participate in OM, just click the button and you'll be taken to Linda's post explaining it all.