Soothing Me, One Stitch at a Time
October 22, 2010
I've been binding a quilt this week –finishing a custom order.  This quilt is for a young girl; her mom is remodeling her room for her birthday which is at the beginning of November.  The quilt is called, "Think Outside the Box".
In the past, people have tried to convince me to bind my quilts by machine.  And to be honest, I have considered it lately, now that I have an amazing sewing machine that would do a decent job.
Yet, along with hand-binding being more attractive than machine, there is also something about binding a quilt by hand that soothes me –something very therapeutic about it.  And yesterday, I realized that it was a metaphor for the needs I've been neglecting in my life these days, as I've been working too much and relaxing too little.  This quilt, begging to be finished, forced me to sit on the couch, with a blanket on my lap, and slowly, one stitch at a time, sew the distance of over 320 inches.
I have not finished binding the quilt yet.  I'll finish it this weekend.  I'm picturing me and my hubby, cozy on the couch as we watch a movie and drink some wine, and me, relaxing with a quilt on my lap, as I finish it one stitch at a time.
Doesn't that sound lovely?
Because people, smiles and laughter, more than anything else, is truly what makes a house a home, I hope you enjoyed this weeks "moment"…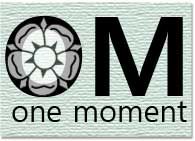 OM is *one moment* and is a meetup designed to notice & relish a moment in everyday life. The meetup idea was created by Linda at her blog, a la mode stuff.  If you'd like to participate in OM, just click the button and you'll be taken to Linda's post explaining it all.