A Great Man
November 12, 2010
I come from a family of divorce, along with other closet skeletons that I rather not dredge up.  Growing up, every night, I dreamed and prayed that one day I would meet a great man and forever the two of us would be.  Cheesey I know, but more than anything, that is truly what I wanted.
Then in college, I met Josh.  Instantly he intrigued me and for two years I went out of my way to talk to this lovely, introverted, blue-eyed boy.  Eventually, we started dating and as time passed it became more and more evident to me what a good man Josh truly was –so we got married.
Secretly, I have been working on something big lately, and while I can't tell you much about it, what I can tell you is that my work load has been very heavy, my sleep almost none, and as a result, my stress level is high and my temperament not so pleasant.
My moment for this week came the other day, when in the midst of my ugliness, a great man was patient and understanding, and instead of fighting back or leaving, he forgave me and stayed up late to help me with my work.
Moments like these remind me of what a great man my husband is, and moments like these remind me of how lucky I truly am.
Happy birthday, to the greatest man I have ever known.
Because people, smiles and laughter, more than anything else, is truly what makes a house a home, I hope you enjoyed this weeks "moment"…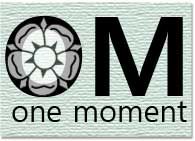 OM is *one moment* and is a meetup designed to notice & relish a moment in everyday life. The meetup idea was created by Linda at her blog, a la mode stuff.  If you'd like to participate in OM, just click the button and you'll be taken to Linda's post explaining it all.