Can we really have it all?
November 19, 2010
Lately I've been wondering, can we really have it all?  Can I be a successful designer, my daughter's primary caregiver, a loving wife, a good friend –can I have all of that along with a clean house, a fit body, a home cooked meal, a well kept blog, and a steady income?  Is this possible?
Honestly, I have not come to a conclusion concerning this question; I have not really had time.  Instead, I have let this idea rest on the shelves of my mind, as I have worked, and I have sincerely thought about it.
And that is my moment for this week –pondering my ambitions, the expectations I have, and many woman have on themselves.  I am wondering, how can I live a fulfilled life, that really matters, but that also is peaceful and content?
This is a hard question, one that might take a while to answer.  But I feel that I am taking steps to a better place by just asking it.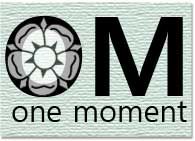 OM is *one moment* and is a meet-up designed to notice & relish a moment in everyday life. The meet-up idea was created by Linda at her blog, a la mode stuff.  If you'd like to participate in OM, just click the button and you'll be taken to Linda's post explaining it all.