Eight Days a Week
November 5, 2010
Monet loves music, dance, and pretty much acting like a ham all hours of the day.  Yesterday, we were listening to the Beatles while making blueberry muffins.  "Eight Days a Week" came on and it fit so perfectly with how I was feeling at that exact moment.  And because I can't seem to put my camera away these days, since Monet is just that cute, my "one moment" for this week is actually eight — eight photos from each day of this eight day week, in descending order.
I ain't got nothing but love, babe
Eight days a week
Love you every day, girl
always on my mind
One thing I can say, girl
love you all the time
Eight days a week
I love you
Eight days a week
is not enough to show I care
Ooo I need your love, babe
guess you know it's true
Hope you need my love babe
just like I need you
Because people, smiles and laughter, more than anything else, is truly what makes a house a home, I hope you enjoyed this weeks "moment"…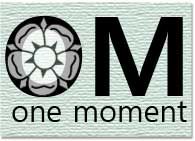 OM is *one moment* and is a meetup designed to notice & relish a moment in everyday life. The meetup idea was created by Linda at her blog, a la mode stuff.  If you'd like to participate in OM, just click the button and you'll be taken to Linda's post explaining it all.