Take a Break
December 11, 2010
I've fallen into a routine –I guess that is what happens when you become a mother.  My day systematically ticks along, from one item to the next, usually the same as the day before.  Some days are perfect, and others are difficult, yet the routine for the most part stays the same.  And no matter the type of day I'm having, everyday around 1:30, after Monet has gone down for her nap, I sit down with a hot cup of coffee, a small sweet treat, and I take a 15 minute break.  It doesn't matter how busy I am, or how much I need to cram into that short window of time where Monet naps –I break for at least 15 minutes.
I sip my warm coffee, enjoy my sweet treat, and daydream.  When my cup is empty, it's off to work –I feel uplifted every time.
Image credit – ZenzPhotography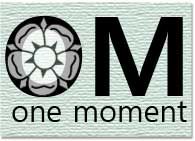 OM is *one moment* and is a meet-up designed to notice & relish a moment in everyday life. The meet-up idea was created by Linda at her blog, a la mode stuff.  If you'd like to participate in OM, just click the button and you'll be taken to Linda's post explaining it all.