A Custom Made Quilt
January 14, 2011
"Dear Angela,  I can't thank you enough, for creating this lasting memory…  Love, Barbara"
A few months back, I received a phone call that went something like this…
"Hello, is this Angela Flicker?"
"Yes it is.  May I ask who's calling?"
"Hi, my name is Barbara –we met at the Avenues Street Fair!?  I was wondering if you would like to make a quilt for me.  I loved your work.  You see, my husband passed away this past year, and, umm, I was hoping to get a quilt made out of his old t-shirts."
My heart stopped.  I absolutely remembered meeting this woman.  I met and talked with hundreds of people that day, months before, and yes I remembered this woman.  She was sweet, and soft spoken –very beautiful for her age.  I remembered because she reminded me of my own grandmother, and I remembered her because of her story.  I remember her crying.  How could I forget?
"Of course I can make a quilt for you.  I'd be honored.  Can we set up a time to meet?"
My moment for this week came just yesterday, when Barbara came by to pick up her quilt.  With tears in her eyes she showed me pictures of her husband, and she told me about the condition he had.  And when I showed her the quilt, and I saw her face seeing the quilt for the first time, in that moment I knew I had made something very special for someone else.
Barbara may not realize this, but she did something for me too.
She reminded me of how special a quilt can be, what it can mean to the owner; and more importantly, she reminded me of how special family is.
………………………………………………………………………………………….
Because people, smiles and laughter, more than anything else, is truly what makes a house a home, I hope you enjoyed this weeks "moment"…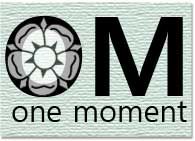 OM is *one moment* and is a meetup designed to notice & relish a moment in everyday life. The meetup idea was created by Linda at her blog, a la mode stuff.  If you'd like to participate in OM, just click the button and you'll be taken to Linda's post explaining it all.