A Touch of Sunshine
January 28, 2011
January has been a rough month, between all the snow and the sickness.  First a cold, then I caught that horrible stomach bug, then another cold (or the same cold, who knows), and then a sinus infection.  Ugh!  Along with that, the inversions have been long, and the snow heavy.
My moment for this week came just the other day, when we went to the park to get a touch of sun; and even though it was still cold out, there was no snow, no inversion, and no sickness for the first time in a month.
Ahhh, I literally breathed a sigh of relief.
Because people, smiles and laughter, more than anything else, is truly what makes a house a home, I hope you enjoyed this weeks "moment"…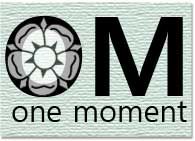 OM is *one moment* and is a meetup designed to notice & relish a moment in everyday life. The meetup idea was created by Linda at her blog, a la mode stuff.  If you'd like to participate in OM, just click the button and you'll be taken to Linda's post explaining it all.