The Honeymoon Stage of Starting a Business
January 7, 2011
When my husband and I first got married, I learned an important lesson very early on –my husband was not a mind reader.  If I wanted or needed something, I had to ask for it.  Overnight my marriage changed, and my husband is now the most supportive person I've ever known.  My morning proof –breakfast in bed.
I've come to realize that just like the honeymoon stage of a marriage, when we are in the honeymoon stage of starting a business, we do and think naive things.
A few weeks ago, when I was looking over the strides I made in the first 6 months of my business, and mapping out what I hopped to accomplish in 2011, I concluded that maybe this is the piece of the puzzle that's missing.  My business will grow much faster if I ask more people to support my work and me.  No more sitting around with the mentality, "if I build it, they will come".
In 2011, I will help my business grow by asking:
Would you like to publish my quilt in your magazine?
Would you like to do wholesale with me?
Would you consider me to be an artist in your fine art show?
May I do a guest post on your blog?
Would you offer me some advice?
My moment for this week came the other day when I emailed someone I really admire, and asked her for some help, some mentoring, some advise, and as busy as she was, she said, "Yes!".
Will I always get a "yes"?  Of course not –maybe that's how my business is different from my marriage, haha.  Yet, if I don't start asking more, I fear my business might not grow as fast, or as beautifully as my marriage has.
image credit: PearsonMaron – Handmade Monster Magnets and Miniature Art Sculptures on Etsy
…………………………………………………………………………………………………………………………………………………………………………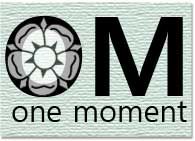 OM is *one moment* and is a meetup designed to notice & relish a moment in everyday life. The meetup idea was created by Linda at her blog, a la mode stuff.  If you'd like to participate in OM, just click the button and you'll be taken to Linda's post explaining it all.