Loving Play
February 4, 2011
Monet is getting to the age where she LOVES play and pretend.  I know what you're thinking, what child doesn't like play?  I don't know why, but just recently this has really developed strongly in her.  She's a bundle of energy, jumping from one activity to the next, using her imagination, and her creative side to play.  I love it!  Lately she has loved coloring, playdoh, and playing with fabric and buttons in my studio.
I wonder if she will be an artist like me and my husband, or if she is just playing pretend.
This week's moment, came the other night before bed time, when the three of us were playing with playdoh.
Actually, make that, as the four of us were playing with playdoh 😉
As we acted silly, and played pretend, the house filled with laughter and smiles.  I can see why Monet loves this so much.  I think maybe this love for play, is really developing strongly in my husband and I as well.
Because people, smiles and laughter, more than anything else, is truly what makes a house a home, I hope you enjoyed this weeks "moment"…
…………………………………………………………………………………….
On a side note, Anna, from Road To The Farm, Creating a Handmade Life is posting creative process interviews on her blog every Friday.  Guess who was featured today?  Yours truly 😉  Check it out!
…………………………………………………………………………………….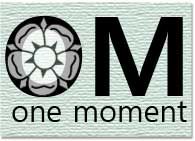 OM is *one moment* and is a meetup designed to notice & relish a moment in everyday life. The meetup idea was created by Linda at her blog, a la mode stuff.  If you'd like to participate in OM, just click the button and you'll be taken to Linda's post explaining it all.