A Valentine's Date
February 18, 2011
My husband is from ID and I'm from IL –we currently live in UT.  What does this mean?  Well, it means that Monet's grandparents live very far away, and as a result, Josh and I go on very few dates without our daughter.  And in all honesty, that's ok, I love hanging out as a family, all three of us.  But every once in a while, it's nice for the focus to be on Josh and I, instead of our sweet little girl.  Selfish I know.
My moment for this week was when Josh and I went on a date, just the two of us, to a fabulous restaurant called The Cooper Onion.  The wine, the company, the conversation, the food, and dessert were all top notch.  I had the most lovely time, and in this moment, I was reminded of all the reasons I married my husband, and all the reasons we fell in love.
Because people, smiles and laughter, more than anything else, is truly what makes a house a home, I hope you enjoyed this weeks "moment"…
…………………………………………………………………………………….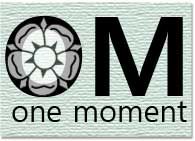 OM is *one moment* and is a meetup designed to notice & relish a moment in everyday life. The meetup idea was created by Linda at her blog, a la mode stuff.  If you'd like to participate in OM, just click the button and you'll be taken to Linda's post explaining it all.