Caring for Baby Chicks and an Urban Garden
March 18, 2011
My family roots tie me to farmers, yet I find myself drawn to wanting to live in the city– I sometimes feel like I'm living a double life.  My backyard, while very small, is a garden haven in the summer.  Most of the yard is filled with raised beds where we grow various vegetables.  In the spring, we cover the raised beds with green house covers so that we can have a cold crop before we plant the summer crop around Mother's Day.  We also compost.  And now, as thought our little city garden wasn't enough, we have added chickens to the mix.
I can not tell you the joy these little chicks have brought to my home.  About 10 times a day, my little daughter says, "Mommy, lets go see the chickens", and to be honest, I think I would visit them just as often, even without my daughters prompts.
Along with that, my husband, daughter, and I have spent a ton of time in the garden.  Along with sewing, gardening is therapy to my soul.  So soothing and rewarding.  My moment for this week came when I realized that my daughter honestly loves gardening as much as I do.  Often, on nice days, we don't even get out of our pajamas, instead we head straight outside to play in the dirt.  I wonder, is there a garden gene, do family roots run that deep?  Just like I use to sit with my grandmother and "help" in the garden, Monet now does the same with me.
Because people, smiles and laughter, more than anything else, is truly what makes a house a home, I hope you enjoyed this weeks "moment"…
……………………………………………………………………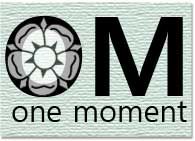 OM is *one moment* and is a meetup designed to notice & relish a moment in everyday life. The meetup idea was created by Linda at her blog, a la mode stuff.  If you'd like to participate in OM, just click the button and you'll be taken to Linda's post explaining it all.