Sharing a Personal Story
May 6, 2011
I've been holding onto some emotions for a while now, since December to be exact.  I decided that the best thing to do, was to share my feelings with the world, as a means to move on.  Along with emotions, I'm also sharing a handful of work that I've yet to reveal.  The two are connected, and you'll see why when you read my story.  This is my moment for the week –letting go of the past!
Also, check out my shop if you would like to see all the new items I listed this week.
Because people, smiles and laughter, more than anything else, is truly what makes a house a home, I hope you enjoyed this weeks "moment"…
…………………………………………………………………………………….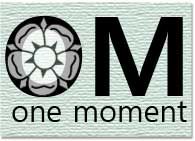 OM is *one moment* and is a meetup designed to notice & relish a moment in everyday life. The meetup idea was created by Linda at her blog, a la mode stuff.  If you'd like to participate in OM, just click the button and you'll be taken to Linda's post explaining it all.