Nesting
September 16, 2011
For the past 5 months, I have sewn for everyone but my family.  The work has been wonderful, and I have enjoyed making every piece, yet at the same time I have longed to sew for my daughter, and the little boy in my belly.  This past week, I took a day off and did exactly that –I made a few skirts for my daughter.  Here's the pattern I used (it's a great free pattern from Oliver + S).  I'm so happy with how the skirts turned out, and I'd be lieing if I said I didn't love all the compliments we get in public.
I have one more custom quilt to finish this weekend, and then my work will be done.  I have about 10 other projects I can't wait to jump into, including the baby's quilt.  And so officially, I think "the nesting" stage has kicked in.
Because people, smiles and laughter, more than anything else, is truly what makes a house a home, I hope you enjoyed this weeks "moment"…
……………………………………………………………………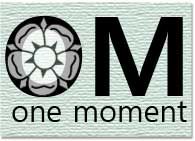 OM is *one moment* and is a meetup designed to notice & relish a moment in everyday life. The meetup idea was created by Linda at her blog, a la mode stuff.  If you'd like to participate in OM, just click the button and you'll be taken to Linda's post explaining it all.