The Calm Before the Storm
October 21, 2011
The past four months of my pregnancy have been difficult.  When I was pregnant with Monet, despite the morning sickness at the beginning, life went on as usual those last 5-6 months.  Everyday I walked to and from work 3 miles, I was energetic, and ready to take on the world.  I felt like a superwoman.  This pregnancy has been much different.  I have been struggling on a daily basis with intense back, hip, and sciatic problems, and as a result my normal busy-bee type personality has been put to a halt.  I can honestly only do a few hours of work a day when it comes to anything that involves walking, standing, sewing, gardening, and lifting my daughter.  Over the past few months, I have been very frustrated with this fact and I have struggled with it on a serious level.
When I started making Baby Jude's quilt a few weeks back, I purposefully picked images that had a lot of hand embroidery in them, keeping in mind my situation.  For the past two weeks I have sincerely enjoyed sitting and resting while my daughter plays, and I comfortably sew by hand.  It has been rewarding and peaceful to say the least.  I can honestly say (now that the baby is only a few weeks away) I find my mind being alright with this idea of slow and rest –I'm calling it the calm before the storm.
My moment for this week came just yesterday, when I finally finished the last 4 blocks.  I know these next quilting steps are going to be much more difficult to complete in my situation, but my mind is at peace knowing that it is ok if I don't finish the quilt until after Jude is born.  So far it is spectacular!
Soon Jude will be with us, and hopefully with his arrival my busy-bee personality will also come back, as I heal and my body returns to "normal".
Now I just need to decide how to arrange the images on the quilt.  Any suggestions?
Because people, smiles and laughter, more than anything else, are truly what makes a house a home, I hope you enjoyed this weeks "moment"…
……………………………………………………………………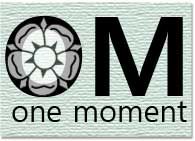 OM is *one moment* and is a meetup designed to notice & relish a moment in everyday life. The meetup idea was created by Linda at her blog, a la mode stuff.  If you'd like to participate in OM, just click the button and you'll be taken to Linda's post explaining it all.