Wrapped in Love
January 9, 2012
Exactly one month ago, Jude Harvey Eugene was born at 8:30 in the morning.  The date was 11/11/11, my husband's 30th birthday.  I would like to mention that the birth was completely natural, not induced like many people assume.  Ever since his arrival, my life has been a combination of euphoria and fatigue –just like the birth.
Jude, like all babies, loves to be held.  And to be completely honest, I love holding this little man.  Multiple times a day he falls asleep in my arms and instead of putting him down, I hold on tightly to the little guy, loving his warm body next to mine and his face so perfectly peaceful.
Jude's older sister Monet, is adjusting well, although she is jealous at times (which is to be expected).  When she gets sad, she says to me "Mommy, I want to hold you."  Unfortunately, I sometimes cannot, and she has to wait to be comforted.
The other day, both Jude and Monet were unhappy at the same time.  I needed to either nurse Jude immediately, or listen to his screams, which I honestly find impossible.  While I nursed Jude in one arm, I wrapped Monet up in one of her handmade blankets.  I gently put my other arm around her and told her the story of how the quilt was made with love, just for her, when she was a baby.  As we talked about all her handmade blankets, and who each one came from, Monet was honestly comforted and soon she was back to "normal".
I love this idea, that the work and love put into a handmade item can be felt long after it has been made.  And with that thought in mind, I finally finished Baby Jude's quilt this week.
Words cannot express how in love I am with these two kiddos of mine.  And yet, more than anything, I want them to always know how loved they are.  Hopefully, after I'm gone, and everyday until then, the handmade items I give will remind my children of our relationship, and how loved they are.
Because people, smiles and laughter, more than anything else, is truly what makes a house a home, I hope you enjoyed this weeks "moment"…
……………………………………………………………………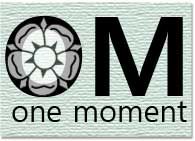 OM is *one moment* and is a meetup designed to notice & relish a moment in everyday life. The meetup idea was created by Linda at her blog, a la mode stuff.  If you'd like to participate in OM, just click the button and you'll be taken to Linda's post explaining it all.