Three years ago, I truly enjoyed making a  Charley Harper Applique Embroidery Quilt for my daughter Monet.  It was my first quilt, and so I think it will always be my favorite, as this is when I discovered and feel in love with the process of quilting.
I have always wanted to make another quilt following this pattern, as I really enjoy Charley's images and the overall whimsical feel of the quilt.  Now that I'm pregnant, and the two kids will be sharing a room, I figured this was my chance.  Monet's room was built around a gray and pale pink color theme.  I'm going to make Baby Jude's quilt using a gray and pale turquoise-blue color theme.  I'll post more later with how I'm going to integrate Baby Jude into Monet's room, so that the room feels more gender neutral.
My moment for this week was being able to finish two of the blocks for the quilt.  The results are adorable and the best part was seeing how excited Monet was to see the blocks, in anticipation of her baby brother's arrival.  Monet brought the blocks into her room and played with them.  She pointed out the fish block and the beetle block on her quilt.  She talked about how Baby Jude was going to sleep in her old crib –she went on and on.  And the entire time she talked about Baby Jude, her face was bright and smiley.  I know times will be hard when Baby Jude actually joins us, but I'm hopeful that these two will grow up to be the best of friends.  I can't express how much that idea warms my heart.

Because people, smiles and laughter, more than anything else, are truly what makes a house a home, I hope you enjoyed this weeks "moment"…
……………………………………………………………………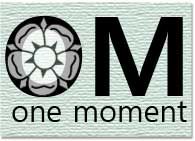 OM is *one moment* and is a meetup designed to notice & relish a moment in everyday life. The meetup idea was created by Linda at her blog, a la mode stuff.  If you'd like to participate in OM, just click the button and you'll be taken to Linda's post explaining it all.